Fifteenth Annual Medina River Cleanup:
May 2, 2015
Register: 9-12 a.m. at Bandera City Park
Maple St. and Hwy. 173 at the Medina River Dam
Click here for a map.
Free barbecue: 5-7 p.m. with entertainment
Free t-shirts for all participants
Free camping: May 1 and 2 at the Bandera City Park and at Pioneer River Resorts (across 173 from the park). Pioneer River Resorts is offering free camping and hot showers for all river cleanup campers. RV sites with full hookups are available to river cleanup participants at Pioneer for $11 per vehicle, less than half their normal rate. For reservations call 1-866-371-3751 or 830-796-3751 or email Linda or Lloyd Randall at pioneerrr@sbcglobal.net.
Flier for Distribution: Download flier as a pdf document
Release of Liability forms are to be filled out by each participant at registration. Adult signatures are required for those under age 18. Click here to download the liability release form.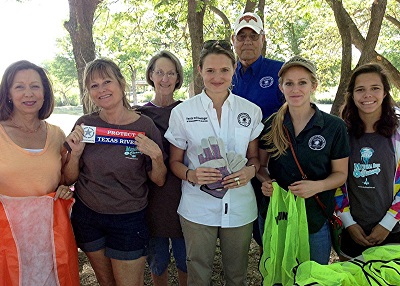 For questions about the cleanup, write to Bob Brischetto, cleanup coordinator, at rbrischetto@wireweb.net.
For questions about the Medina River Protection Fund, contact Don Sloan, treasurer, at SloanMedina@cs.com.
Click on any map below to view a larger version.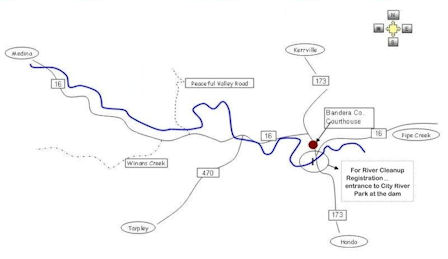 Paddle & Clean a Section of the River
Shuttles should be arranged with the head of each section. Click here to view contact information for each section head. If you have a group and would like to sponsor an open section, contact our coordinator, Bob Brischetto at rbrischetto@wireweb.net. Click on any of the maps below to view a larger image.