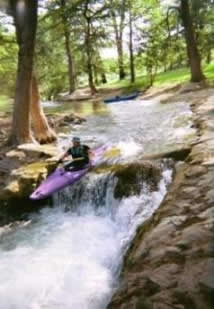 Turnout for River Cleanup was High, Even with Low Water
Robert Brischetto
Four years into an historic drought that brought the Medina River to almost a trickle, turnout on May 3 to clean up the Medina River cleanup was second highest in 14 years.
As many as 209 persons signed in to remove about almost two tons of trash from the Medina River for the Fourteenth Annual Medina River Cleanup on May 3. The turnout was second highest since the cleanup began 14 years ago.
They came from 23 different cities and towns across Texas and from Hobbs, New Mexico. Four out of ten of the cleanup participants were Bandera County residents. Another four in ten were from San Antonio.
The participants varied in age from 10 to 86 years, with a third between the ages of 11 and 17 and another third above 50 years. There was greater participation this year from boy scouts: Troops 145 and 347 from San Antonio and Troop 627 from Cibolo.
Because of low or no water flow, seven of the twelve sections of the 50 miles of river within Bandera County were closed to paddlers. Only 28 of the participants paddled the river. The rest covered on foot the 37 miles of river that could not be floated by boat.
They removed large trash deposited years ago by floods. Dave Cox reported recycled metal that included 2,780 lbs. of steel and 353 lbs. of aluminum, collecting a total of $360. A large dumpster of non-recyclable trash was also removed.
The community-wide effort was evident from the variety of ways in which locals contributed to the cleanup, bringing their tractors, pickups and equipment to pull out trash from the river bed and banks. Pioneer River Resort provided free camping. The city provided a dumpster for trash and free camping at the Bandera City Park.
County Commissioner Bobby Harris served barbecue to 146 persons after the cleanup. Entertainment was provided by Josh Peek of Comfort and Brandon Nichols of Bandera, singing their country western originals.
Sponsors of the 2014 cleanup were the City of Bandera Economic Development Corp., the Bandera County River Authority and Groundwater District, the Bandera Business Association, the Bandera County Commissioners Court, Lake Medina Conservation Society, Chuck and Janet Andres and Louis Howard.
The Medina River Protection Fund is a public charity established as a perpetual fund to engage residents in all parts of the county in a community-wide effort to preserve and protect the river. Donations are tax deductible. Don Sloan is treasurer.
Look for photos of the cleanup on our Pictures page.

If you would like to support this effort with a tax deductible donation, please make your check payable to "Medina River Protection Fund" and mail to:
The Medina River Protection Fund
P.O. Box 417
Lakehills, Texas 78063
Thank you for your participation and your donation. With your help, we can ensure a future for the Medina River amid the growth and development that is taking place in Bandera County.
---
Find out how the Medina River is flowing at the dam in Bandera: USGS Real-Time Water Data for Medina River Website: http://waterdata.usgs.gov/
usa/nwis/uv?site_no=08178880
Find out how the Medina River is flowing at Moffet Park in Medina, TX: http://waterdata.usgs.gov/tx/nwis/uv?
cb_all_00060_00065_00045=on&cb_00060=on&cb_00065=on&cb_00045=on&
format=gif_default&period=&begin_date=2014-02-28
&end_date=2014-03-07&site_no=0817887350