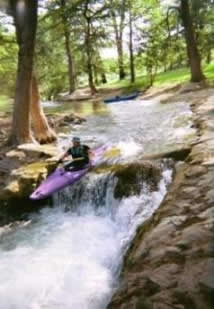 Three Tons of Trash Removed from the Medina River
Robert Brischetto
During the second longest drought ever recorded in Texas, 172 persons pitched in to remove more than three tons of metal and other trash from the Medina River on May 5.
They came from 27 towns throughout Texas to Bandera to remove trash from 42 miles of river in the Twelfth Annual Medina River Cleanup.
The participants varied from 4 to 84 years, skewed more toward the older end of the age range. Almost seven in ten of them were over the age of 40 and only one in five were younger than 18.
Almost half (42%) of the participants this year were from Bandera County. Another 22% were from San Antonio. The cleanup effort brings together paddling clubs from throughout Texas to join with local residents.
Even in the midst of a two-year drought, more people paddled (54%) than picked up by land. The river was running at a slow 21 cubic feet per second, far below the median average of about 70 cfs in early May for the past 29 years. Eight miles of the river were closed to paddlers due to low or now water. Hikes were arranged along the dry sections of the river.
The community-wide effort was evident from the variety of ways in which locals contributed to the cleanup, bringing their tractors, pickups and equipment to pull out tons of trash from the river bed and banks.
Dave Cox reported recycling 4,700 lbs of scrap steel, 95 lbs of scrap aluminum, and 50 lbs of aluminum cans from the cleanup. Bobby Harris served barbecue to 126 persons after the cleanup. Entertainment was provided by Rodney Joe Harris and John "Woody" Wood, who strummed many original scores.
Sponsors of this year's cleanup were the Lake Medina Conservation Society, Texas River Protection Association, Bandera River Authority and Groundwater District, the City of Bandera, Bandera County Commissioners, Bandera Business Association, Chuck and Janet Andres and Kathleen Casper and David Lackey.
The Medina River Protection Fund is a public charity established as a perpetual fund to engage residents in all parts of the county in a community-wide effort to preserve and protect the river. Don Sloan is treasurer.
The Thirteenth Annual Medina River Cleanup is slated for May 4, 2013, rain or no rain. For more details, click here. Download a flier here to give to your friends.
Look for photos of the 2012 cleanup on our Pictures page.

If you would like to support this effort with a tax deductible donation, please make your check payable to "Medina River Protection Fund" and mail to:
The Medina River Protection Fund
P.O. Box 417
Lakehills, Texas 78063
Thank you for your participation and your donation. With your help, we can ensure a future for the Medina River amid the growth and development that is taking place in Bandera County.
---
Find out how the Medina River is flowing at the dam in Bandera: USGS Real-Time Water Data for Medina River Website: http://waterdata.usgs.gov/
usa/nwis/uv?site_no=08178880