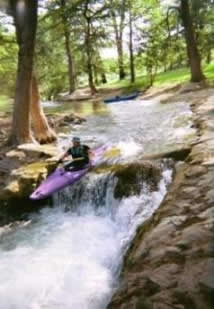 Drought Did Not Dampen Spirits in River Cleanup
Robert Brischetto
Even as the drought in Bandera County entered its third year, the turnout in cleanup of the Medina River was up over that of last year.
As many as 184 persons pitched in to remove about a ton and a half of trash from the Medina River for the Thirteenth Annual Medina River Cleanup on May 4.
The drought caused the river to run underground several miles past the city park and 13 miles of the river was closed to paddling. Yet almost half of the participants paddled and dragged their canoes on 37 miles of river that flowed through the county.
Although there have been no floods in the river during the past year, the receding water made accessible the trash that remained from previous floods. A crew of twelve removed what appeared to be a washed-out bridge near the town of Medina with a steel-cutting chain saw.
The participants varied in age from 5 to 85 years, with a third between the ages of 11 and 20 and more than half older than 50 years. There was greater participation this year from Bandera high school students and scouts in San Antonio. A Facebook page was created to boost participation from teens.
Almost half (46%) of the cleanup participants were Bandera County residents. Another quarter were from San Antonio. The cleanup effort brought together paddlers from 27 towns throughout Texas to join with local residents.
The community-wide effort was evident from the variety of ways in which locals contributed to the cleanup, bringing their tractors, pickups and equipment to pull out trash from the river bed and banks. The city has provided a dumpster for trash and free camping at the Bandera City Park. Contributors to this year's barbecue included Lowe's Market of Bandera and Bandera Wine and Spirits.
Bobby Harris served barbecue to 136 persons after the cleanup. Entertainment was provided by Rodney Joe Smith and John "Woody" Wood, who strummed many original scores.
Sponsors of this year's cleanup were the City of Bandera Economic Development Corp., the Bandera County River Authority and Groundwater District, the Bandera Business Association, the Bandera County Commissioners Court, Lake Medina Conservation Society, Chuck and Janet Andres, and Kathleen Casper & David Lackey.
The Medina River Protection Fund is a public charity established as a perpetual fund to engage residents in all parts of the county in a community-wide effort to preserve and protect the river. Donations are tax deductible.
The Thirteenth Annual Medina River Cleanup is slated for May 4, 2013, rain or no rain. For more details, click here. Download a flier here to give to your friends.
Look for photos of the 2012 cleanup on our Pictures page.

If you would like to support this effort with a tax deductible donation, please make your check payable to "Medina River Protection Fund" and mail to:
The Medina River Protection Fund
P.O. Box 417
Lakehills, Texas 78063
Thank you for your participation and your donation. With your help, we can ensure a future for the Medina River amid the growth and development that is taking place in Bandera County.
---
Find out how the Medina River is flowing at the dam in Bandera: USGS Real-Time Water Data for Medina River Website: http://waterdata.usgs.gov/
usa/nwis/uv?site_no=08178880
Find out how the Medina River is flowing at Moffet Park in Medina, TX: http://waterdata.usgs.gov/tx/nwis/uv?
cb_all_00060_00065_00045=on&cb_00060=on&cb_00065=on&cb_00045=on&
format=gif_default&period=&begin_date=2014-02-28
&end_date=2014-03-07&site_no=0817887350