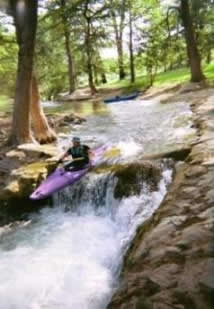 The 2015 Turnout for River Cleanup was Next to Highest in 15 Years
For more information:
Robert Brischetto
210-413-7264
rbrischetto@wireweb.net
April showers brought enough water to float a boat and buoyed participation in the annual Medina River cleanup on Saturday. The turnout was the second highest in fifteen years of the cleanup, exceeded only in 2010 before the drought began.
As many as 224 persons signed in to remove two large dumpsters of trash from the Medina River for the Fifteenth Annual Medina River Cleanup. The participants varied in age from 6 to 87 years, with a third from the ages of 11 and 17 years and another third above 50 years.
They came from 18 different cities and towns across Texas as well as one participant visiting from Australia. Six out ten participants were from the San Antonio area, most of them scout troops. Boy scouts were members of Troop 627 of Cibolo and Troop 145, Troop 346, Troop 501 of San Antonio. Girl scouts came from Troop 143 of San Antonio.
Fifty miles of the river within Bandera County were divided into sixteen subsections for the cleanup effort. Because the river was flowing above 80 cubic feet per second, the number paddling the river doubled over last year. This year there were 52 paddlers. Another 172 picked up by land, many of them covering the river banks and crossings by hiking.
Local land owners also contributed to the cleanup, bringing their tractors, pickups and equipment to pull out trash from the river bed and banks. Pioneer River Resort provided free camping. The city provided a dumpster for trash. A second dumpster was used for recycling metal.
County Commissioner Bobby Harris and his crew cooked breakfast, lunch and a barbecue pork, chicken and sausage supper for participants. Entertainment after the cleanup was provided by Josh Peek of Boerne and Brandon Nicholson of Bandera, singing their country western originals.
Sponsors of this year's cleanup are Lake Medina Conservation Society, Texas River Protection Association, Bandera County Commissioners Court, City of Bandera, Bandera Business Association, Bandera County River Authority and Groundwater District, Chuck and Janet Andres, Johnny Boyle, Jr., True Value Hardware, Kathleen Casper and David Lackey, Tom and June Reedy and Louis Howard.
The Medina River Protection Fund is a public charity established as a perpetual fund to engage residents in all parts of the county in a community-wide effort to preserve and protect the river. Donations are tax deductible. Don Sloan is treasurer.
Look for photos of the cleanup on our Pictures page.

If you would like to support this effort with a tax deductible donation, please make your check payable to "Medina River Protection Fund" and mail to:
The Medina River Protection Fund
P.O. Box 417
Lakehills, Texas 78063
Thank you for your participation and your donation. With your help, we can ensure a future for the Medina River amid the growth and development that is taking place in Bandera County.
---
Find out how the Medina River is flowing at the dam in Bandera: USGS Real-Time Water Data for Medina River Website: http://waterdata.usgs.gov/
usa/nwis/uv?site_no=08178880
Find out how the Medina River is flowing at Moffet Park in Medina, TX: http://waterdata.usgs.gov/tx/nwis/uv?
cb_all_00060_00065_00045=on&cb_00060=on&cb_00065=on&cb_00045=on&
format=gif_default&period=&begin_date=2014-02-28
&end_date=2014-03-07&site_no=0817887350